Paul Bazelaire: Complete works for cello and piano
PAUL BAZELAIRE: Deux pièces, Op. 109 · Burlesque, Op. 110 · Cache-cache, Op. 111 · Aria, Op. 112 · Deux Images Lointaines, Op. 113 · Suite Française sur des airs populaires, Op. 114 · Berceuse chinoise, Op. 115 · Rapsodie dans le style russe, Op. 117 · Funérailles, Op. 120 · Suite Italienne, Op. 122 · Prelude en Ut mineur, Op. 123 · Morceau de Concours (Prélude-Sicilienne-Final), Op. 124 · Variations sur une chanson naïve, Op. 125 · 1er Concertino, Op. 126 · 2ème Concertino (en forme de Variations), Op. 127
Morten Zeuthen, cello · Daniel Blumenthal, piano
Only a couple of his pieces have stayed in the repertoire, the most populare being 'Suite Française sur des airs populaires' where Bazelaire adapts five popular folksongs.
Charming and elegant French music brought forth by the eminent cellist Morten Zeuthen and pianist Daniel Blumenthal.
Paul Bazelaire (1886-1958) was the main teacher at the Conservatoire de Paris, with such names as Fournier and Flachot among his students. His own works for cello and piano, all of them presented here for the first time, are all perfect encores for cellists with the ability to make their instrument sing.
COPENHAGEN CELLO QUARTET
FEAT. ZEUTHEN, MØLDRUP, THOMSEN & KULBERG
Copenhagen Cello Quartet – Morten Zeuthen, Toke Møldrup, Henrik Dam Thomsen & Jakob Kulberg. 4 virtuoso cellists together! Arvi Pärt – Frames Alexandre Tansman – 2 Mouvements pour 4 cellos Anders Koppel – La Balajo – Suite for CEllo Quartet Enrico Mainardi – Notturno per Quatro Violoncelli Rudolph Matz – Quartet Wilhelm Fitzenhagen – Ave Maria Copenhagen Cello Quartet: Improvisation 1 (Prologue to Fratres) Improvisation 2 (Epilogue) PACD177 – Paula Records 2013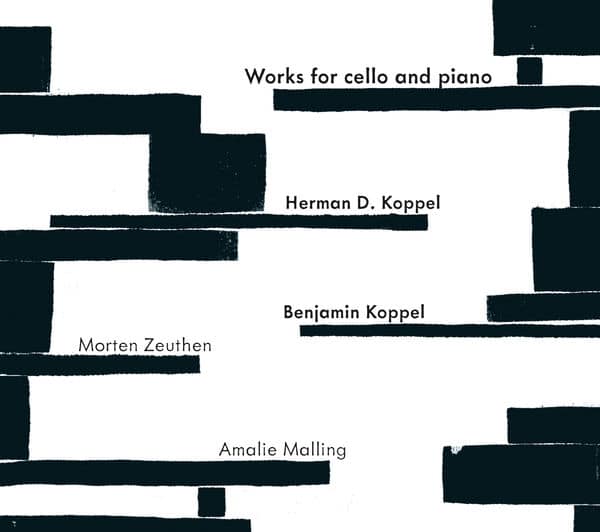 Herman D. Koppel
Woks for cello and piano
Benjamin Koppel / Morten Zeuten / Amalie Malling.
Johan Sebastian Bach
Three Sonatas BWV 1027-1029 / J. S. Bach / Zoltan Kodaly Three Chorals (1924)
Morten Zeuthen- Cello / Niklas Sivelöv- Piano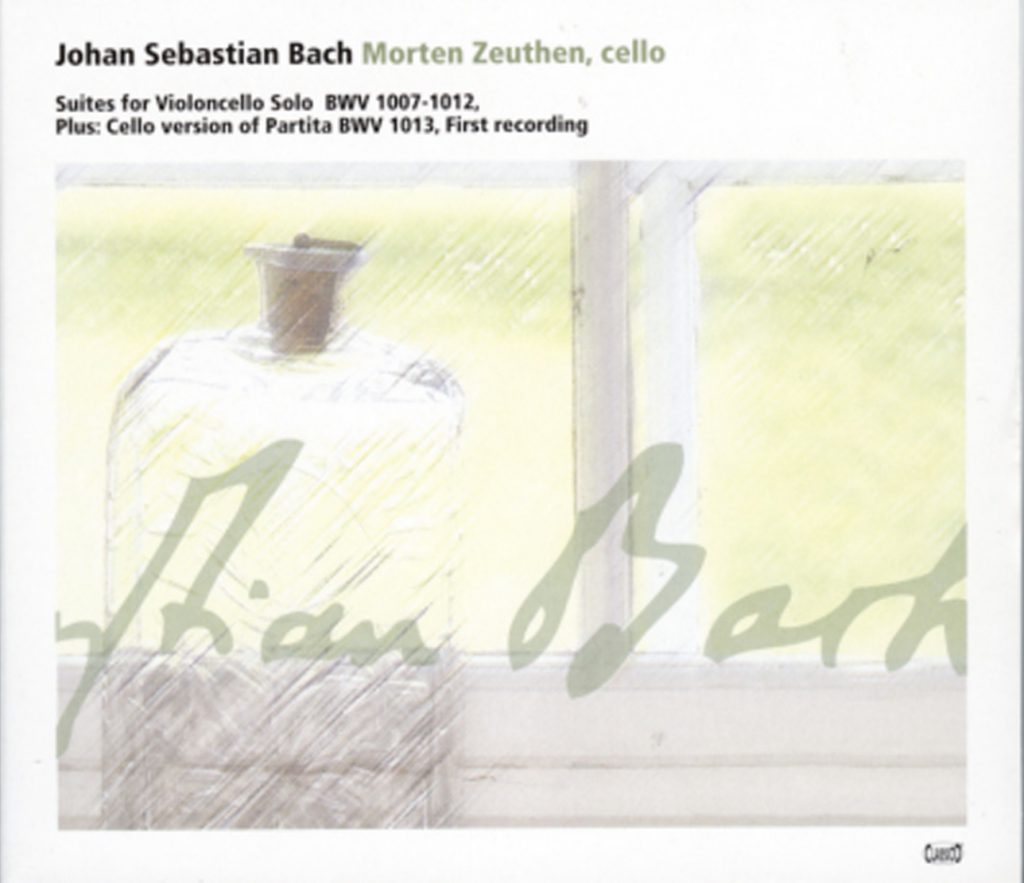 Johan Sebastian Bach
Suites for Violoncello Solo 1 – 6 BWV 1007-1012, Plus: Cello vertion of Partita BWV 1013, First recording.
Morten Zeuthen-Cello
Reissue of the Danish Grammy Award winner from 1994 in a very nice de-luxe digipak. Special price only D.Kr. 119. Including the world premiere recording of the cello version of Partita BWV1013 plus all 6 suites for cello solo BWV1007-1012. Selected by the Japanese music magazine Suzuki Classical Reviews in May 2007 as the world's best recording of the suites out of 110 available recordings.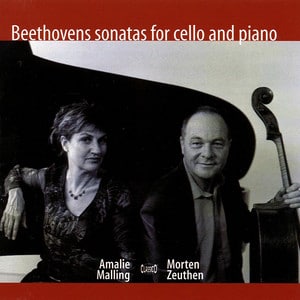 Beethovenes sonatas for cello and piano
Morten Zeuten / Amalie Malling.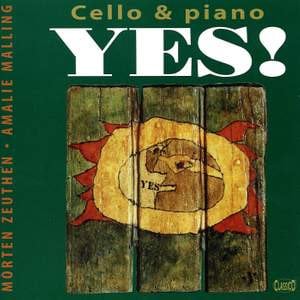 Cello & Piano Yes ! (2004, CD)
Morten Zeuthen, Amalie Malling
POUL ROVSING OLSEN
Musik for cello og klaver
Amalie Malling, klaver
Morten Zeuthen, cello
Poul Rovsing Olsen, komponist
Poul Rovsing Olsen (1922-82) had a wide-ranging personality and was active both as a composer, an ethnomusicologist and a lawyer. His background as a composer was in the Danish-French tradition, but as a scholar he explored Arab and Indian music. In his compositions, the extraordinary combination of elements from Western and Oriental music creates an individual sound that is unequalled in Danish music.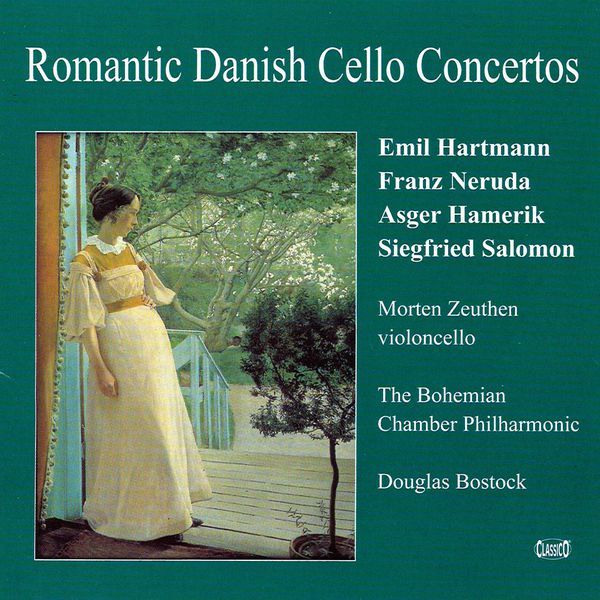 Romantic Danish Cello Concertos. Emin Hartmann / Franz Neruda / Asger Hamerik / Siegfried Salomon
Morten Zeuthen violonccello. The Bohemian Chamber Philharmonic – Douglas Bostock.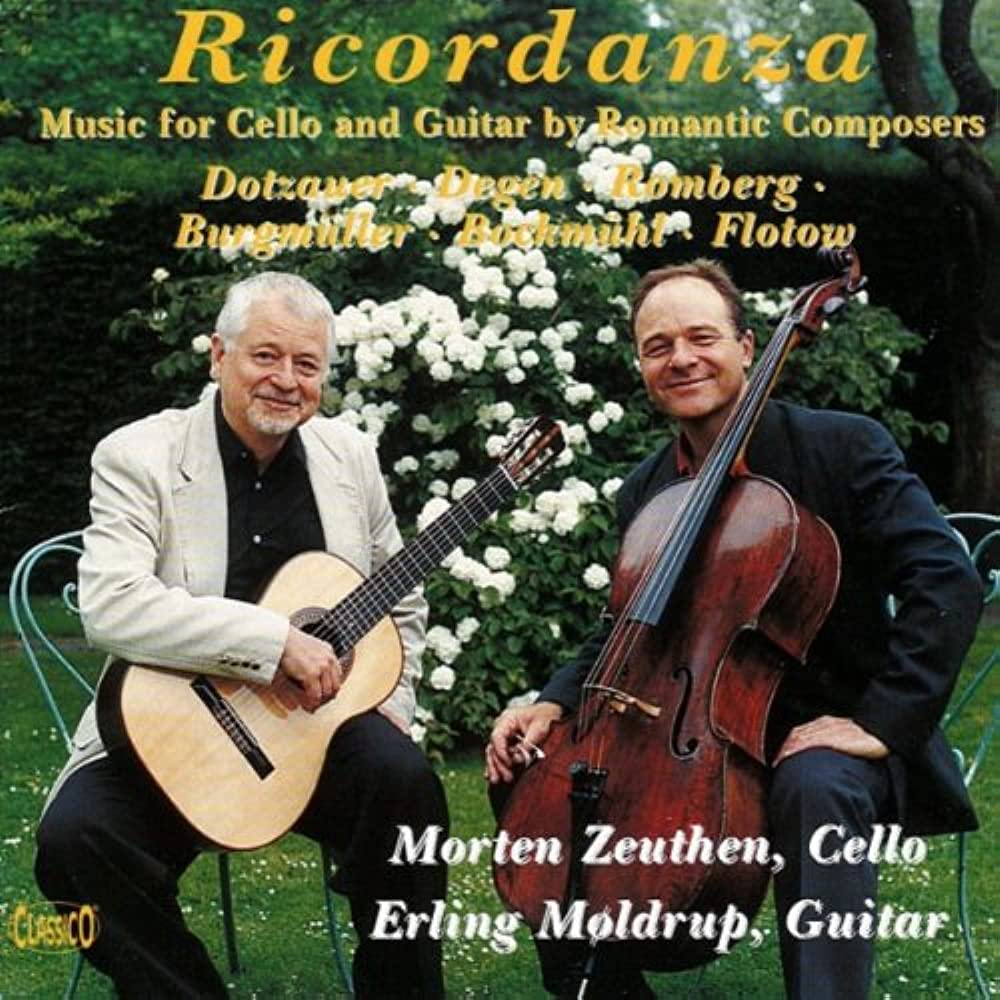 Ricordanza – Music for Cello and Guitar by Romantic Composers
Morten Zeuthen, cello. Erling Møldrup, guitar.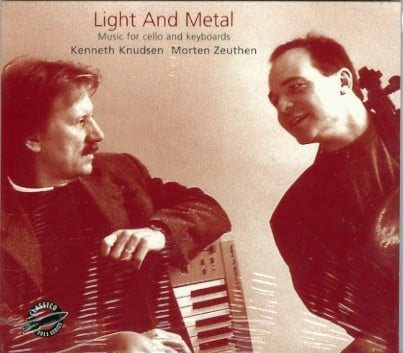 Light And Metal – Music for cello and keyboards
Kenneth Knudsen – Morten Zeuthen.
CELLO AND PIANO. Hilda Sehested – Asger Hamerik – Percy Grainger – Louis Glass
Morten Zeuthen, cello – Amalie Malling, piano.
Per Nørgård – Works for Cello
Morten Zeuthen – Anton Kontra – Erling Møldrup.
Bach: 6 suiter for solo cello.
Morten Zeuthen.
2 CD. Classico
Reference Class CD 104-05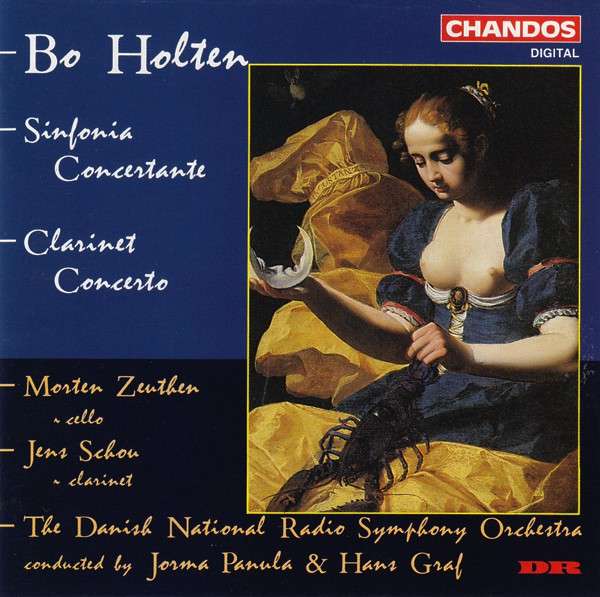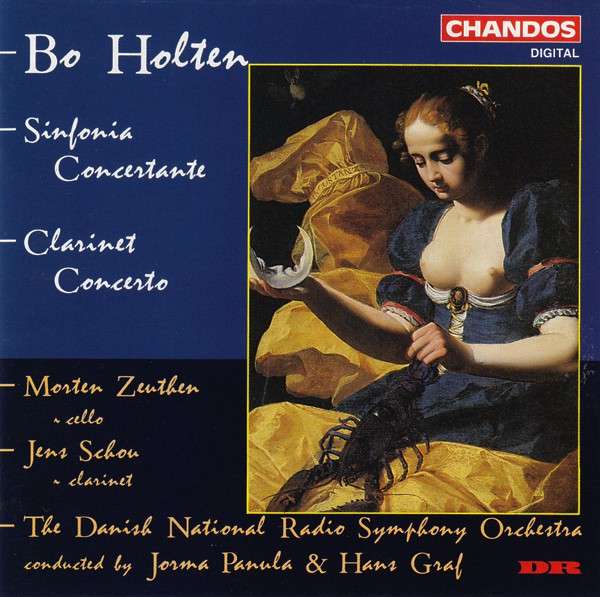 Bo Holten — Morten Zeuthen, Jens Schou, Danmarks Radios Symfoniorkester, Jorma Panula, Hans Graf
Sinfonia Concertante / Clarinet Concerto
Album UK 1994 on Chandos label
Classical (Contemporary)
Recorded in the Danish Radio Concert Hall, Copenhagen on 16 October 1987 (Sinfonia Concertante) and 23 February 1990 (Concerto) T.T. = 65:25 ℗ 1994 Chandos Records Ltd. © 1994 Chandos Records Ltd. Printed in Germany Made in Austria "Premiere Recording": Sinfonia Concertante, and Concerto for Clarinet CD is packaged in a standard plastic black-tray jewel case along with a 12 page booklet, notes in English, German and French.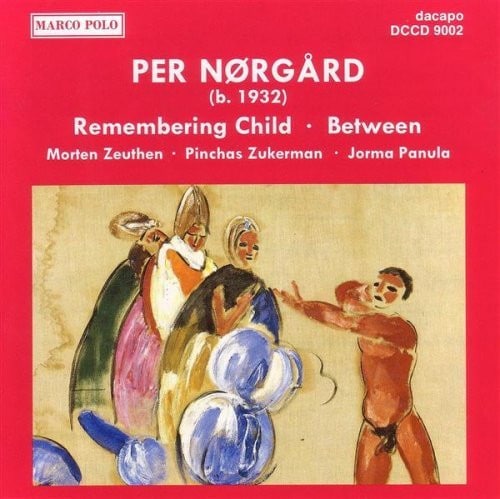 Per Nørgård
Remembering Child; Between
 Morten Zeuthen, Pinchas Zukerman, Jorma Panula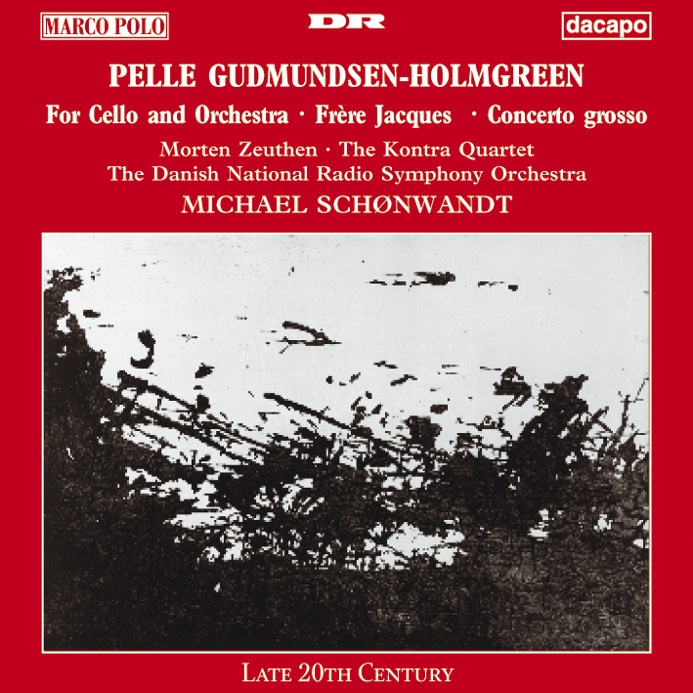 Pelle Gudmundsen-Holmgreen
For Cello and Orchestra / Concerto Grosso
Henning Wellejus
Orchestral Works
Morten Zeuthen,Nette Stormlund Demant
Danish Radio Concert Orchestra, Peter Hettrup Larson,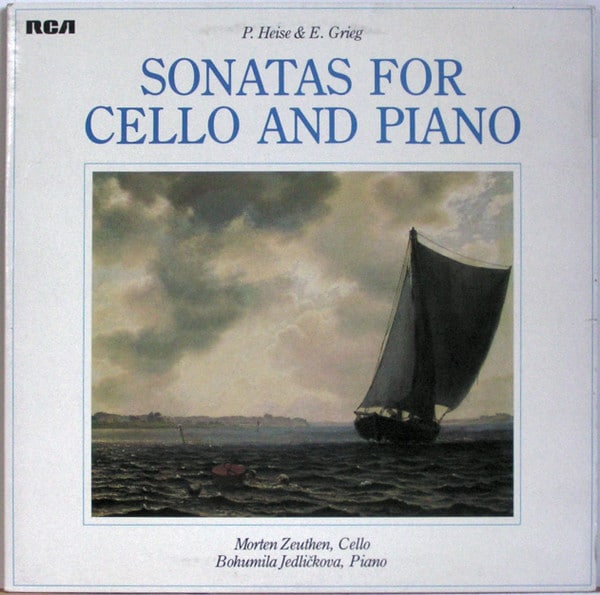 P. Heise & E. Grieg
Sonatas For Cello And Piano
Morten Zeuthen, Cello – Bohumila Jedlickova, Piano
Poul Ruders
Violin Concerto no. 1 / Clarinet Concerto / Cello Concerto
Morten Zeuthen – Rebecca Hirsch – Niels Thomsen
Odense Symphony Orchestra-Tamas Vetö